Missouri Sticker-Placement Insert
Starting in late 2002, Missouri residents are being asked to place the validation stickers in the center of their plates rather than in the corners. This is done in the hopes of curbing sticker (or "tab" as Missouri refers to them) theft. Registrants are given this handout to explain the new arrangement:
Front:
Back: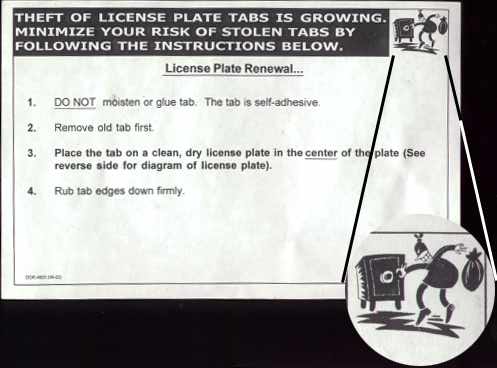 The icon at the top right of the back page kills me - obviously whoever designed this handout went looking for some clip art of a "thief" and ended up with this safecracker-guy who looks like a reject from Mad magazine. "Look out for this guy, he wants to steal your 2003 MO tab!" Too funny.
Thanks to Danny Kinzle for setting me up with this particular piece of literature.
Back to Missouri page
© Copyright 1998-2017 David Nicholson. All Rights Reserved.
Last Modified 8/7/2003 (created page).